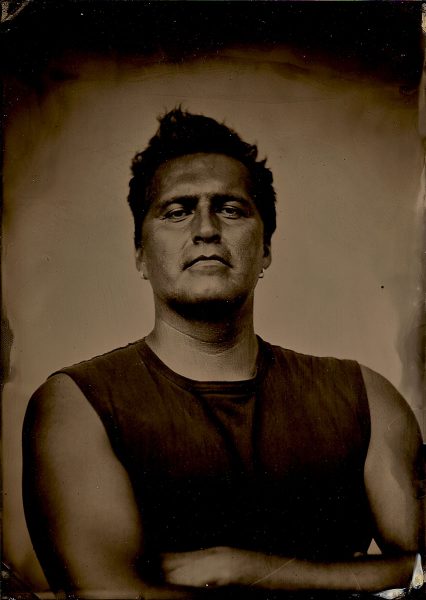 Adrian Stimson is a member of the Siksika (Blackfoot) Nation in southern Alberta, Canada.
Adrian has a BFA with distinction from the Alberta College of Art and Design and MFA from the University of Saskatchewan. He considers himself as an interdisciplinary artist and exhibits nationally and internationally.
His paintings are varied yet his use of black and white monochromatic paintings that depict bison in imagined landscapes are well known, they are melancholic, memorializing, and sometimes whimsical, they evoke ideas cultural fragility, resilience and nostalgia. The British Museum recently acquired two paintings for their North American Indigenous collection.
His performance art looks at identity construction, specifically the hybridization of the Indian, the cowboy, the shaman and Two Spirit being. Buffalo Boy, The Shaman Exterminator are two reoccurring personas. He is also known for putting his body under stress, in White Shame Re-worked, he pierced his chest 7 times, recreating a performance originally done by Ahasiw-Muskegon Iskew, he crawled across the desert in 110 degree heat for What about the Red Man? For Burning Man's The Green Man and recently dug a TRENCH in a five-day durational performance sunrise to sunset.
His installation work primarily examines the residential school experience; he attended three residential schools in his life. He has used the material culture from Old Sun Residential School on his Nation to create works that speak to genocide, loss and resilience.
His sculptural work includes; Spirit of Alliance, public sculpture in Saskatoon; Bison Sentinel healing gardens of the First Nations University of Canada. And Inii Bison Heart, Bronze Bison was unveiled in the Fall of 2019 in Calgary. In June 2023, the Canadian Goverment awarded Team Stimson (Adrian Stimson, LeuWebb Projects, MBTW Group) and the commission for the National Monument to Canada's Mission in Afghanistan which will be located in Ottawa.
His video work is includes "As Above So Below", for With Secrecy and Despatch, Campbelltown Arts Centre, NSW Australia 2016, using drone cameras to create a 2 channel video played cinematically on the gallery wall, which spoke to colonial genocide through massacres on our traditional lands. As well as many short video's of Buffalo Boy and the Shaman Exterminator.
He was a participant in the Canadian Forces Artist Program, which sent him to Afghanistan in 2010. Two exhibitions resulted "Holding our Breath" and Terms of Engagement that toured across Canada.
Adrian was awarded the Governor General Award for Visual and Media Arts in 2018 and REVEAL Indigenous Arts Award – Hnatyshyn Foundation in 2017. He was awarded the Blackfoot Visual Arts Award in 2009, the Alberta Centennial Medal in 2005 and the Queen Elizabeth II Golden Jubilee Medal in 2003.