Public Art & Installations
Positioning a Blackfoot perspective in all of his work, artist Adrian Stimson also explores the themes of historical memory around war and commemoration as well as the displacement of animals, including the presence and absence of the bison on the plains.
Spanning almost two decades, below is a selection of Adrian Stimson's public art and installation work showcasing his skill in refining difficult subjects and painful personal narratives into structures that hold both poignancy and promise in iconic visual presentations.
2023 National Monument for Canada's Mission in Afghanistan
Drawing on elements of healing from the concept of the Medicine Wheel, our design takes the form of a circular, sacred space of safety, a "home base" of reflection, memory, and contemplation. Entering through one of its four portals, you are in an interior area parallel to the safe space found within a forward operating base. This area is the sanctuary where the fallen are remembered. Corten steel walls surround and protect the space.

Inscribed on the walls of three of the quadrants is the year, names of the fallen and maple leaves, in several rows. The fourth southeast quadrant wall facing the direction of Afghanistan is dedicated to fallen Afghan Allies. In the centre, four bronze flak jackets stand draped on crosses, utilitarian yet poignant reminders of protection. Taken together, this Monument creates a powerful opportunity to honour and reflect, to seek balance and healing, for all Canadians.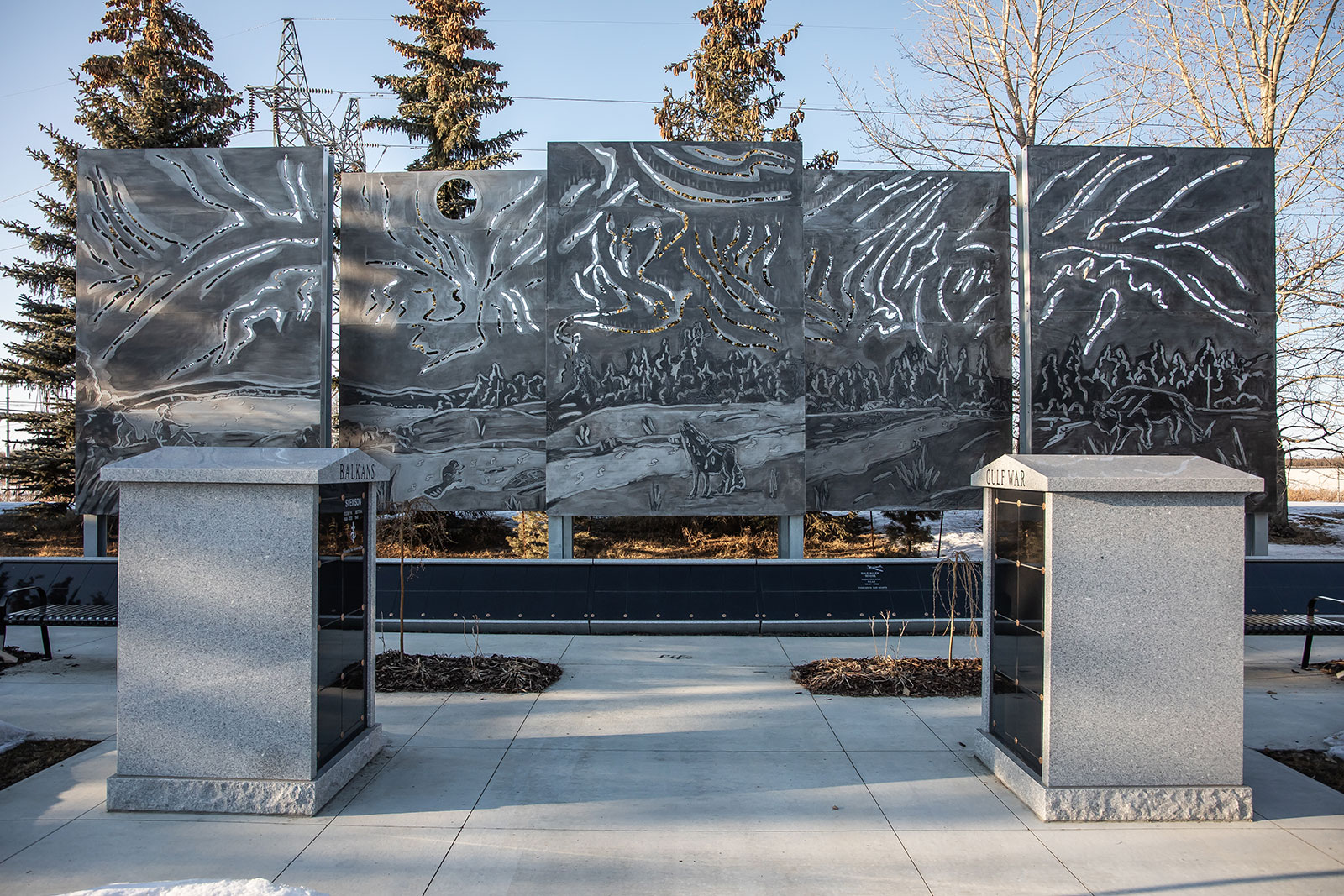 2021 Peace
Located at the Northern Lights Cemetery in Edmonton, this artwork honours peace — a universal concept that speaks to friendship, harmony, and freedom from violence. The depictions etched on the five aluminum-steel, laser-cut and patinaed panels reflect the idea of peace, as represented through animal metaphors relating to the military and the natural world around us. The human symbolizes and honours the fallen military members who rest in this place, while the moon speaks to our emotional being, which connects us to the chaos and the calm within. Together, the five panels create PEACE, a northern landscape that reflects the natural world, the animals that both protect and create wonder in us, the energetic night skies, and a connection to the spirits of our loved ones.

More info on City of Edmonton Public Art Collection website.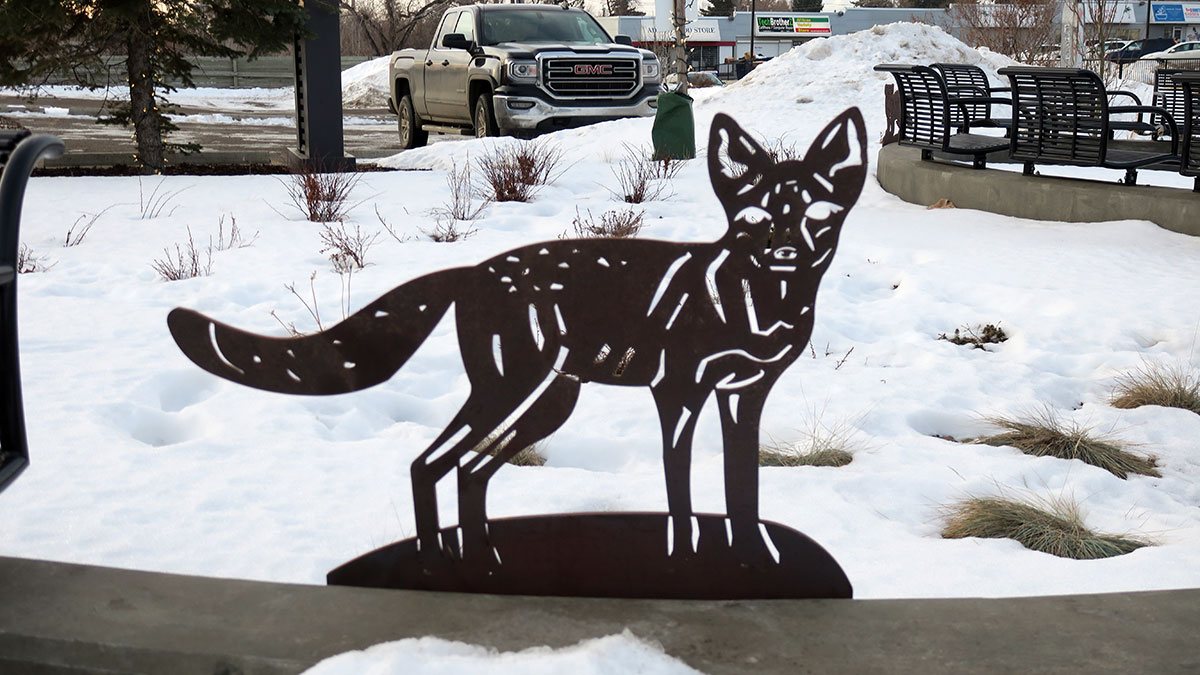 2020 Kawa'pomahkaiks | Animals That Roam The Prairie (View Portfolio)
The inspiration came from a session Stimson led at Forest Lawn Library where he asked the attendees, mostly children, to draw something that could become a sculpture. Most drew animals.

"I thought animals would make a good subject, so I started to think how could I fuse Blackfoot culture with this project," he said. "I thought of the animals that used to or still roam the plains. International Ave. in many ways is the gateway to the plains. The badger, gopher, beaver, burrowing owl, prairie hare, swift fox, black-footed ferret are all animals that once inhabited this area.

"Hopefully this will be a catalyst for people to learn more about Blackfoot culture history and its relationships to animals."

– Jason Herring, Local artists enlivening International Avenue this summer, Calgary Herald, June 28, 2020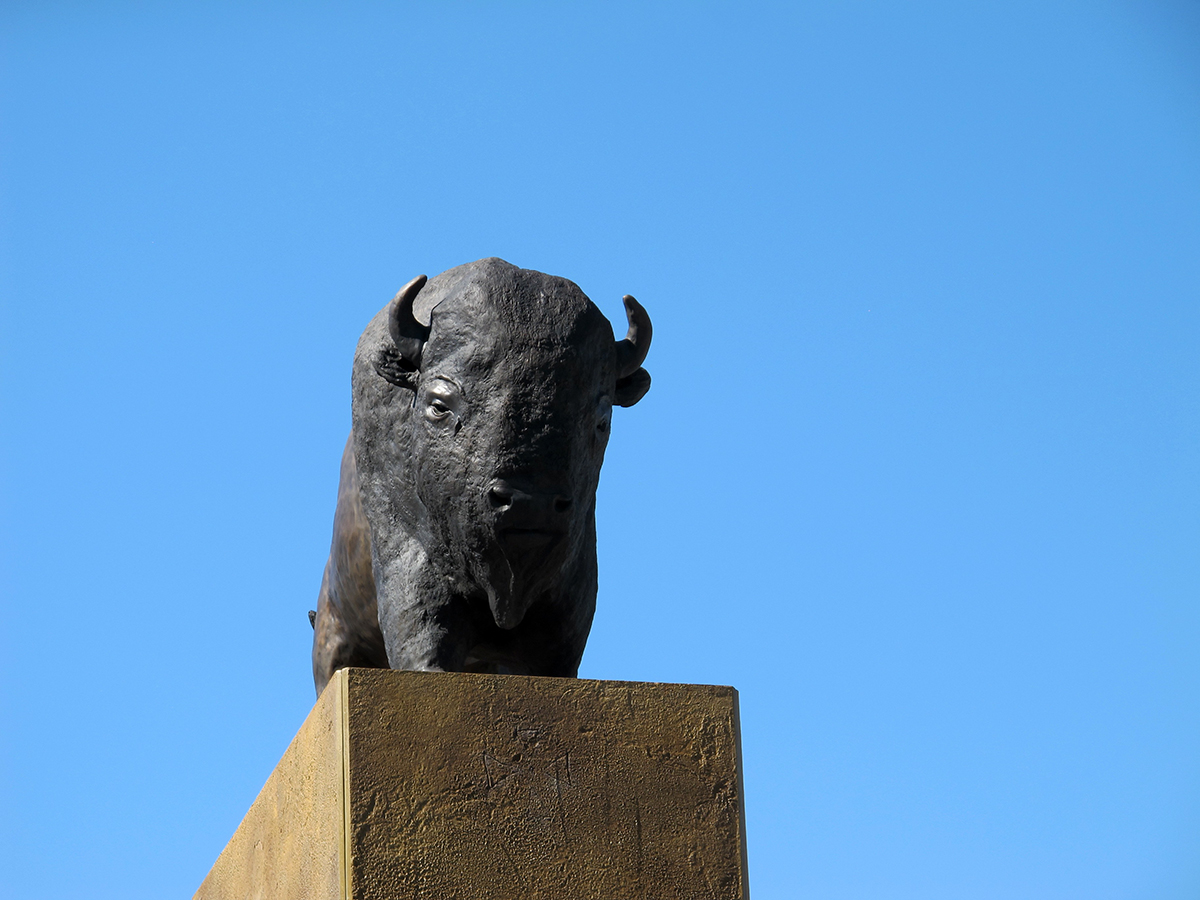 British art critic Jonathan Jones once said that art is a language and public art is public speech. In the case of the new Trinity Hills urban development along Calgary's westside, the public message is loud and clear: historical diversity is meant to be celebrated.

Emerging on the banks of Paskapoo Slopes in the shadows of Canada Olympic Park, the northwest community has recently become home to a new public art installation created out of a partnership between Heavy Industries, Trinity Development Group, Urban Systems and celebrated Blackfoot artist Adrian Stimson.

Named Iini Bison Heart, the 14-feet-tall bronze sculpture pays homage to the surrounding land and the Blackfoot's deep historical connection with the bison – a key message in much of Stimson's work.

– Kyle Bell-Cook, The Ties That Bind, Heavy Industries News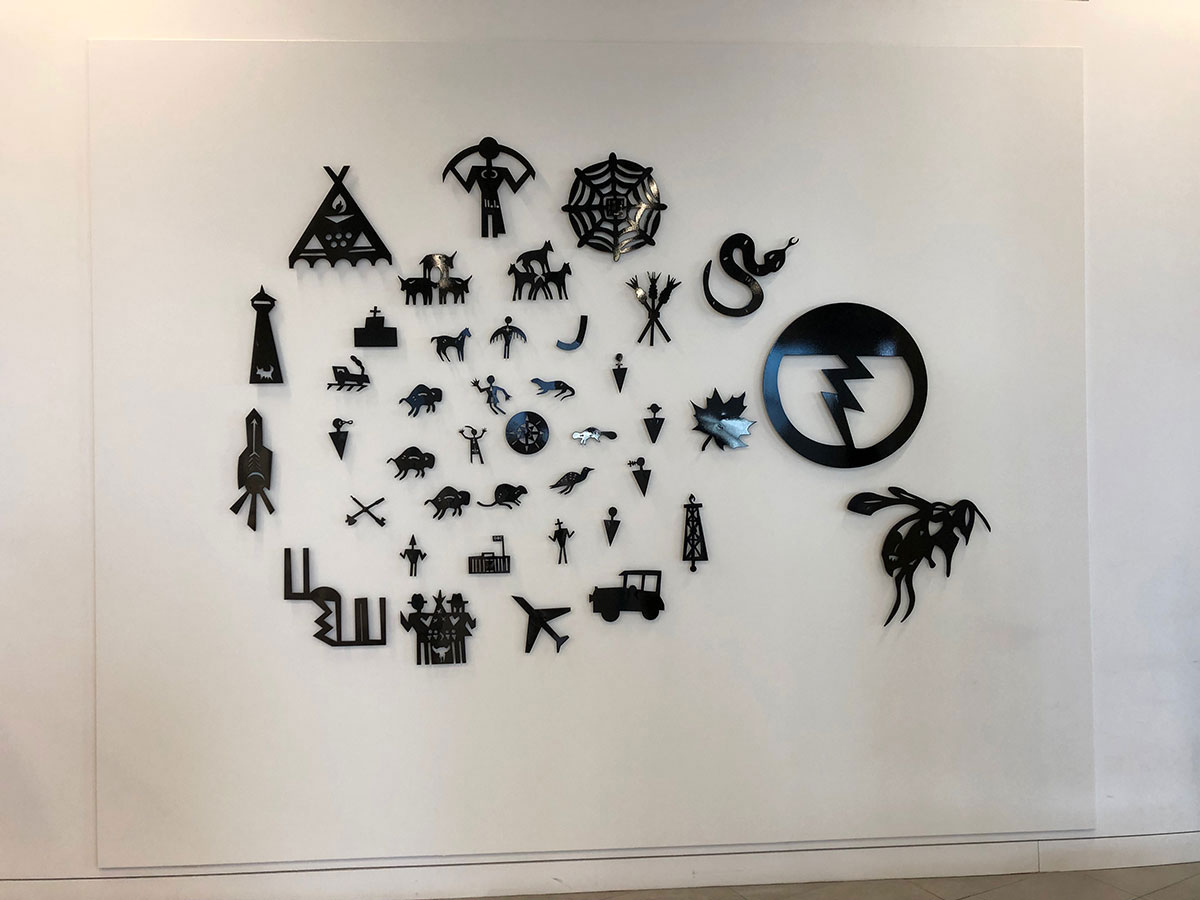 2019 Calgary & Alberta Past, Present, Future Count (View Portfolio)
"It is exciting to see our Indigenous Placemaking continue at Central Library and extend to two new locations this year. The talent we see in our local communities is inspiring and the value of permanent and prominent Indigenous art in public spaces cannot be overstated,"

– Jared Tailfeathers (Project Lead for Indigenous Placemaking, Calgary Public Library), Calgary Public Library Celebrates Indigenous Authours and Artists, Alberta Native News, December 11, 2019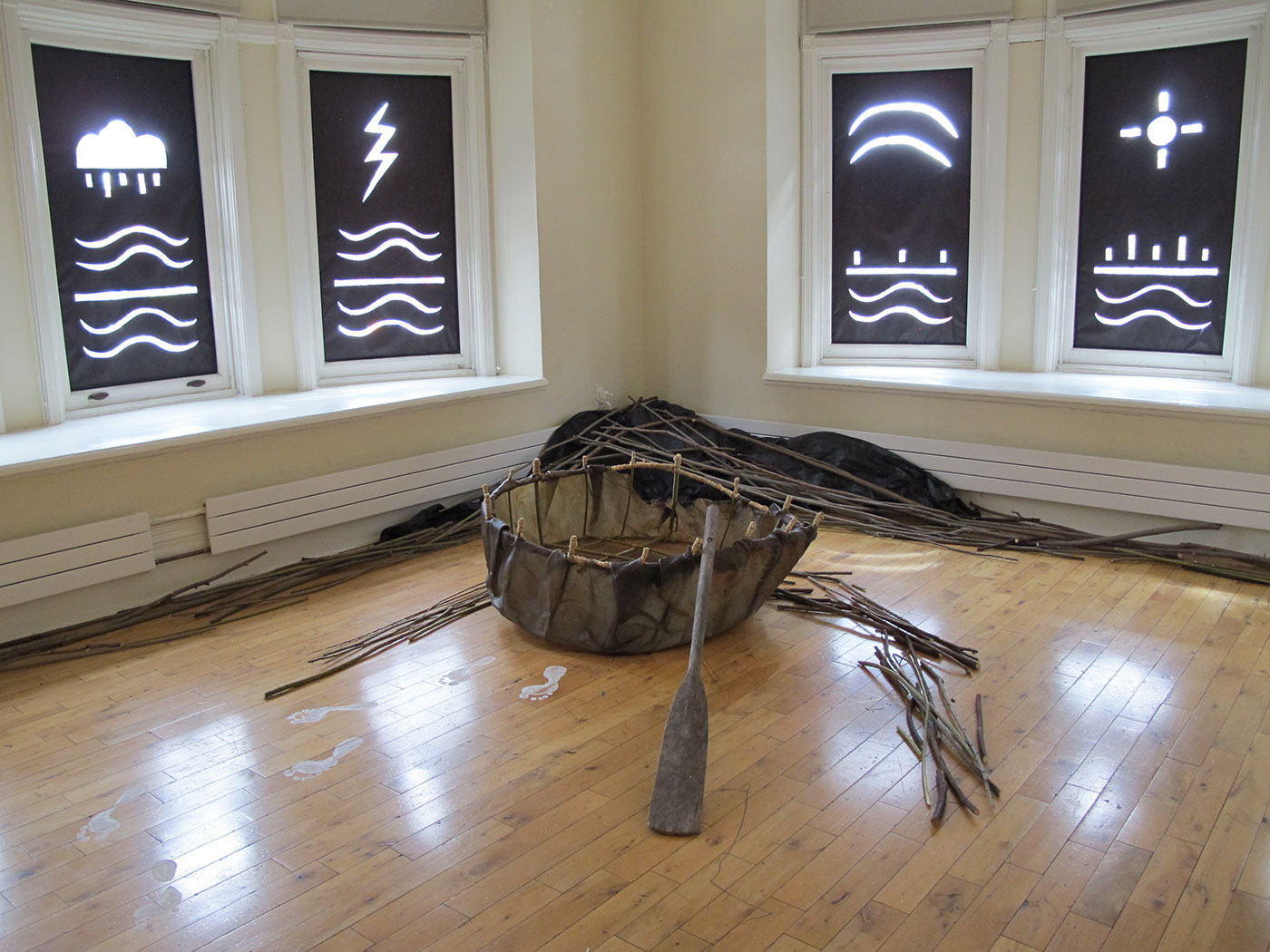 A member of the Siskisa (Blackfoot) Nation, Stimson explores creation stories with this installation. The centrepiece is a bull boat, a durable vessel traditionally made from bison rawhide that was used to transport material across North America's lakes and rivers.

– Ali Amad, Take a look at the cool eco-art taking over the Gladstone Hotel right now, Toronto Life, April 19, 2018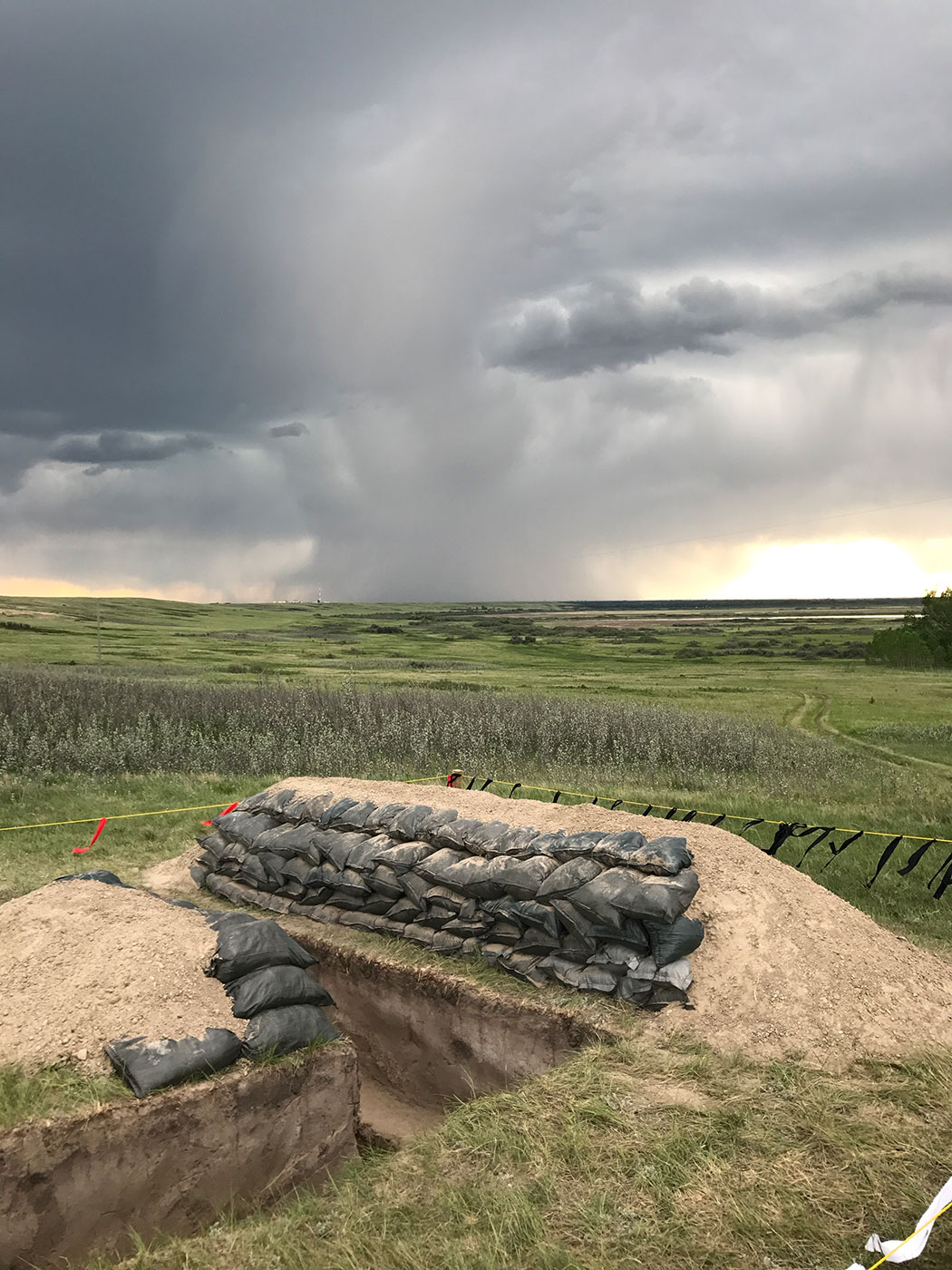 The warm prairie breeze ripples across the grassy plains and the sun burns bright in a cloudless sky as Stimson, guided by First World War manuals, works in a ritualistic and meditative way to dig his trench in the pattern of the Blackfoot symbol of war. Stimson carves out a rectilinear "U" shape to a depth of six feet, shoring it up with 250 sandbags. He also piles the sod to create a second "U", a pattern that can be seen on the painted story robe of legendary First World War veteran Mike Mountain Horse, a Blood from southern Alberta. This symbolic configuration, Stimson says, establishes a continuum of the Blackfoot warrior from the past to the present.

– Catherine Carlyle, Adrian Stimson Honours Indigenous Warriors, Galleries West Magazine, July 3, 2017

2014 The Spirit of Alliance (View Portfolio)
Stimson Jean-Sebastien Gauthier and Ian "Happy" Grove were chosen by the Dakota Whitecap First Nation and the City of Saskatoon to create the piece. In addition to the teepee, the sculpture features four key characters: Chief Wabasha IV, Col. Robert Dickson, Dickson's wife Totowin and their daughter Helen. Wabasha and Dickson appear in a pose of exchange. The trade passes the chief gifts of a flag, blanket and three King George medals. "This sculpture honours the moment where new alliances are reconfirmed and honoured, all for the mutual benefit of each," the artists say in an overview of the piece.

Wabasha played an important role as an ally to the British, raising many Oyate supporters for the War of 1812 and participating in key battles. Dickson was a Scottish trader who became a liaison between the First Nations and the British. He generated the majority of the Western Nations support for the British. He also had a great love for the Dakota people, working alongside them, rather than against them.

– Stephanie McKay, Making of a Monument: Sculpture honours First Nations' contribution to the War of 1812, Saskatoon Star Phoenix, September 19, 2014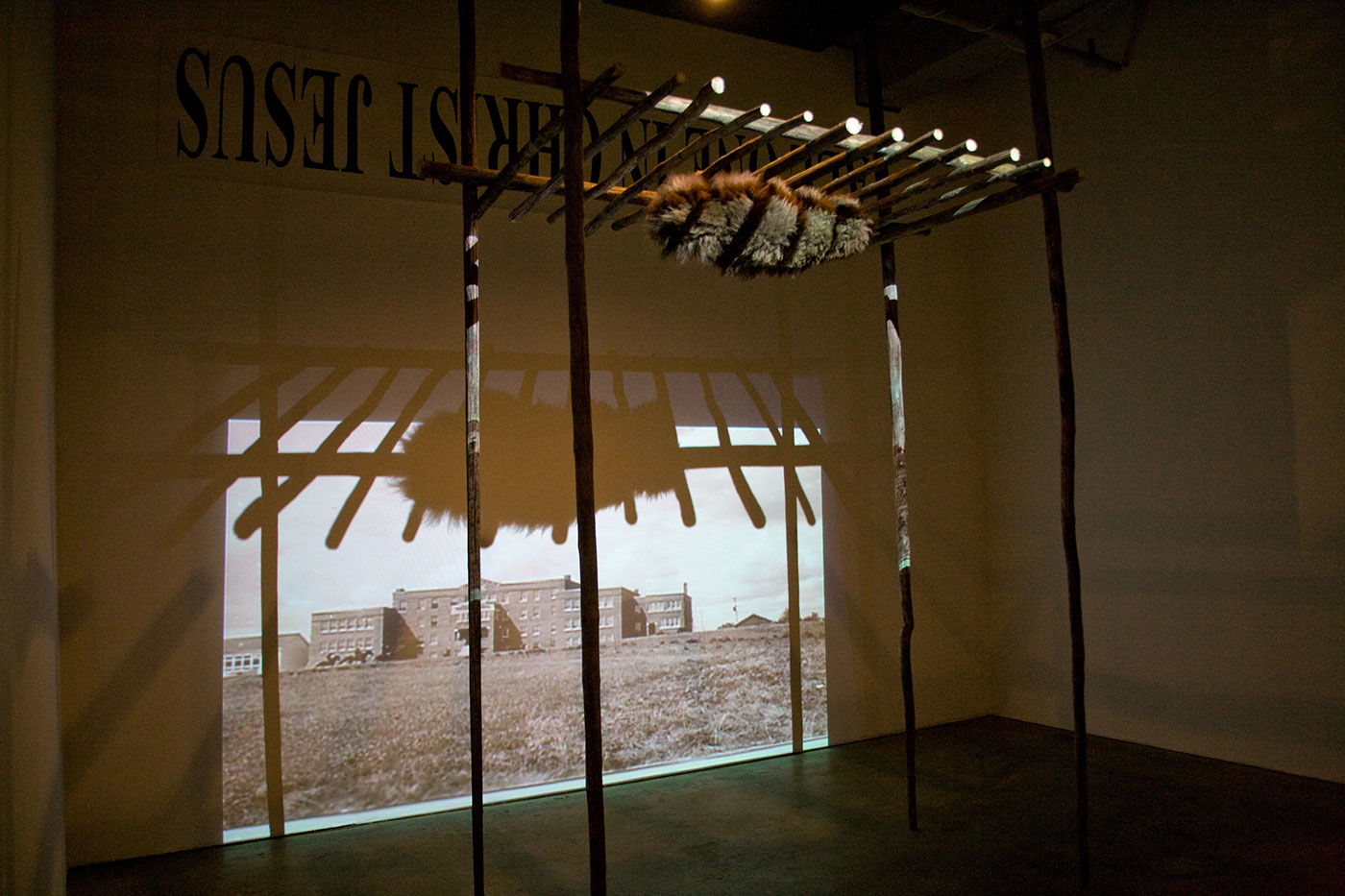 Old Sun is a new exhibition of installations by the Saskatoon-based artist, Adrian Stimson. Stimson explores identity, history, and transcendence through the reconfiguration of architectural and natural fragments culled from the relics of the Chief Old Sun Residential School.

Old Sun engages in the exhausting work of mourning yet it is also a story of survival and strength. In his practice as an artist, Stimson repeatedly turns to the figure of the buffalo as a metaphor for spirituality, creativity, and rebirth. In this exhibit, the figure of the buffalo is at once witness, mourner and survivor. As he tells it, "I use the bison as a symbol representing the destruction of the Aboriginal way of life. It also represents survival and cultural regeneration. The bison is central to Blackfoot being."

– Lynne Bell, Professor in the Department of Art and Art History and Co-Director of the Humanities Research Unit at the University of Saskatchewan for Truck Contemporary Art